max c fields



Public Communication: Performing Knowledge of the Body
BLUEorange Gallery
Jessica Borusky, Melanie Gilligan, Sarah Hill, Katherine Hubbard + MPA, Autumn Knight, and Katharina Swoboda
January 23 - February 27, 2015

Suplex Projects and BLUEorange Gallery are pleased to present Public Communication: Performing Knowledge of the Body, an exhibition of seven contemporary artists working in different regions of the world. Through live performance, photography, and video, the featured artists communicate an array of current issues that limit and confine the body. Each artist uses a body or their body to publicly exceed limitations and confinements inherent in culture, politics, or society at large. Public Communication culls together unique methodologies ranging from post-traumatic stress disorder therapy to re-performing a historical movie scene that took place in the Munich Zoo. The highly psychological performances survey a movement within contemporary art, where current oppressions are exhausted to locate knowledge of the body. The artists participating in the exhibition include: Jessica Borusky, Melanie Gilligan, Sarah Hill, Katherine Hubbard + MPA, Autumn Knight, and Katharina Swoboda. Public Communication is co-curated by Max Fields and Joe Joe Orangias.

Accompanying the exhibition is a limited edition 80+ pg. catalogue designed by Texas-based designer Amanda Thomas. The catalogue extends Public Communication through essays and images by the artists, curators, and additional contributors from America, Europe, and New Zealand. The catalogue is available for sale at BLUEorange for $15.

Order the catalogue for Public Communication: Performing Knowledge of the Body online in the Suplex store now! $15 + S&H.

Opening Reception
Friday, January 23, 2015 • 6-9PM
Celebrate the opening of Public Communication: Performing Knowledge of the Body at BLUEorange Gallery from 6-9PM and enjoy freshly made cocktails and light bites. At 7:30PM, artist Sarah Hill will perform their work They Wonder in the gallery. Space is limited; admission is free and open to the public.

Performance: Sarah Hill, They Wonder
Friday, January 23, 2015 • 7:30PM

Suplex and BLUEorange invite you to a live performance of They Wonder by Texas-based artist Sarah Hill. In the artist's own words: "I hand crafted my own version of a Wonder Woman costume. During the performance They Wonder I repeatedly spin around and around in circles until I fall down. I am interested in the repetitive action of spinning and getting no-where, falling down and getting back up. This specific action of spinning comes from Dara Birnbaum piece Technology/Transformation: Wonder Woman (1978). Birnbaum has wonder woman spin around and around. They Wonder goes against the populist template of art as a form of leisure or entertainment. I am not a blockbuster artist."

Lecture: Jessica Borusky
Saturday, January 24, 2015 • 2PM
Moderated by co-curators Max Fields and Joe Joe Orangias, artist Jessica Borusky will discuss her work featured in Public Communication and speak on the conceptual content found in this exhibition as it relates to her practice's over arching narrative. Seating is limited; admission is free. RSVP to reserve your space by emailing maxcfields@gmail.com.

Curator's Tour
Thursday, February 12, 2015 • 7:30PM
Join co-curator Max Fields for a free tour of Public Communication: Performing Knowledge of the Body. Admission is free and open to the public.

Performance: Zahira Gutierrez (Wild Moccasins)
Friday, February 20, 2015 • 8:30PM • Tickets $5 (cash/credit at the door)
Zahira Gutierrez of Wild Moccasins performs solo inside the Public Communication gallery space. Tickets are $5 online at splx.org or at the door. (All ages welcome)

Lecture: Dean Daderko with MPA
Wednesday, February 25 • 7PM
Dean Daderko will lead an engaging discussion on the works of artists MPA and Katherine Hubbard, with whom he has curated into his own exhibitions and worked with closely for nearly a decade. Daderko is currently a curator at the Contemporary Arts Museum Houston. He is a former a graduate seminar instructor at Yale University School of Art and a visiting curator at the Centro de Investigaciones Artisticas in Buenos Aires, Cooper Union School of the Arts in New York, and M.I.T. He holds a BFA from the Tyler School of Art.

Closing Reception
Friday, February 27, 2015 • 6-9PM
Join the organizers of the exhibition for the closing of Public Communication and help us celebrate the exhibition over drinks and light bites.

ABOUT THE ARTISTS

Jessica Borusky is a visual artist and writer based in Kansas City, where she is as a second year Artist-in-Residence at the Charolette Street Foundation. She received an MFA from Tufts University and the School of the Museum of Fine Arts, Boston and a BA from the New College of Florida. The Boston Globe, Big Red & Shiny, and Dig Boston have reviewed Borusky's work. She recently curated the exhibition Perma-F(r)ail: Personae Documents in Kansas City, which traveled to the Howard Art Project in Boston.

London based Melanie Gilligan is an artist working in a variety of media including video, performance, text, installation and music. Gilligan completed a BA (Hons) Fine Art at Central Saint Martins in 2002 and was a Fellow with the Whitney Museum of American Art's Independent Study Program in 2004-5. Recent exhibitions include: Transmission Gallery Glasgow (2008) as part of the Glasgow International Festival and Franco Soffiantino Gallery, Turin (2009). In 2008, Gilligan released Crisis in the Credit System, a four-part fictional mini drama about the recent financial crisis, made specifically for Internet viewing and distribution, commissioned and produced by Artangel Interaction. In 2009, Gilligian completed a single screen film Self-capital, commissioned by the Institute of Contemporary Arts London as part of the group exhibition Talk Show. Gilligan was the recipient of a Paul Hamlyn Award for Artists. Gilligan has had recent exhibitions at Chisenhale Gallery (London), Kӧlnischer Kunstverein (Cologne), and Descartes' Daughter at the Swiss Institute in New York.

Sarah Hill is a performance and video artist based in Austin, Texas. They had their first international solo show at Le Lieu, Center en art Acuel, Canada. Sarah received their MFA from the Museum School in partnership with Tufts University, Boston. They have studied with Black Market International at the Festival of Live Art in Glasgow, Scotland. Sarah has performed at the International Performance Platform Festival at Gallery Labirynt in Lublin, Poland; Performatorium 2014: Festival of Queer Performance Regina in Saskatchewan, Canada; Mobius, Proof Gallery and Anthony Greaney in Boston; Grace Exhibition Space in New York; and at little berlin in Philadelphia. They have screened videos in America, Australia, Scotland, and Canada.

Katherine Hubbard's practice explores and questions female sexuality. Her work recognizes the physical body as the mediator between personal and socially constructed desires. Breaking away from fetishization and patriarchal shame that is culturally imposed upon the female body, Hubbard's work insists on reclaiming sexual autonomy and ownership. Katherine lives and works in Brooklyn, New York and holds a MFA from Bard College. She has worked collaboratively with the artists MPA and A.K. Burns on performances and projects that have been exhibited at the Brooklyn Museum of Art, Higher Pictures, and Recess Art in New York.

MPA is a visual artist based in 29Palms, CA. She earned a BFA from Hampshire College. MPA has performed and exhibited both nationally and internationally at: The Whitney Museum of American Art, NY; Museo de Arte Comtemporaneo de Oaxaca (MACO), Oaxaca City, Mexico; and Zendai MoMA, Shanghai, China. Recent performances include "Direct Line To" at the Stedelijk Museum, Amsterdam, Nether Lands and "Directing Light onto Fist of Father" at Leo Koenig Inc., New York, NY. She is the recipient of numerous grants and awards including a Foundation for Contemporary Arts Grant for Artists in 2013.

Autumn Knight is a Houston-based performance/video/installation artist, recently professor at Prairie View A&M University, and a trained drama therapist. She is a co-founder of Jelly Jar, a performance art duo with Dr. Denise Frazier. Play, social encounter, and spontaneity re-emerge as themes in her performance and installation art work. Autumn Knight holds an M.A. in Drama Therapy, from New York University (New York, NY) and a B.A. in Theatre Arts/Speech Communications from Dillard University (New Orleans, LA). She holds certificates in Arts Management & Marketing (Birkbeck College, London, UK) and in Speech & Drama (Central School of London, London, UK). Ms. Knight has a long track record of working with education and social services organizations including serving as: Group Relations Consultant, New York University; Conference Administrator, Teacher's College, Columbia University; residential rehabilitation program advisor for The Women's Home, Houston and many more. She has also additional teaching experience with New York University, Havens Center After -School Program, and University Jumpstart/University of Texas. Her fellowships and awards include Round 6 Theatre Communications Group/Doris Duke Foundation, Future Leaders: New Generations Program, HATCH Artistic Contribution Award, and The Women's Home Expressive Therapy Award.

Katharina Swoboda is a visual artist based in Hamburg and Vienna. She earned an MA from the University of Applied Arts in Vienna, and is currently working on a transdisciplinary doctorate at the University of Fine Arts, Hamburg (HFBK). Swoboda's work has been exhibited in different countries around Europe. She received an ASA Visual Arts Fellowship from the HFBK and participated in the City of Rijeka residency in Croatia. Swoboda received a scholarship by the Austrian Federal Ministry for Arts and Culture and a research grant by the Austrian Federal Ministry for Science and Research in 2013.

SPONSORS

Public Communication: Performing Knowledge of the Body is a fiscally sponsored project of Fresh Arts and is hosted and co-presented by BLUEorange Gallery Houston. Additional support comes from The Idea Fund Grant, and individual contributions.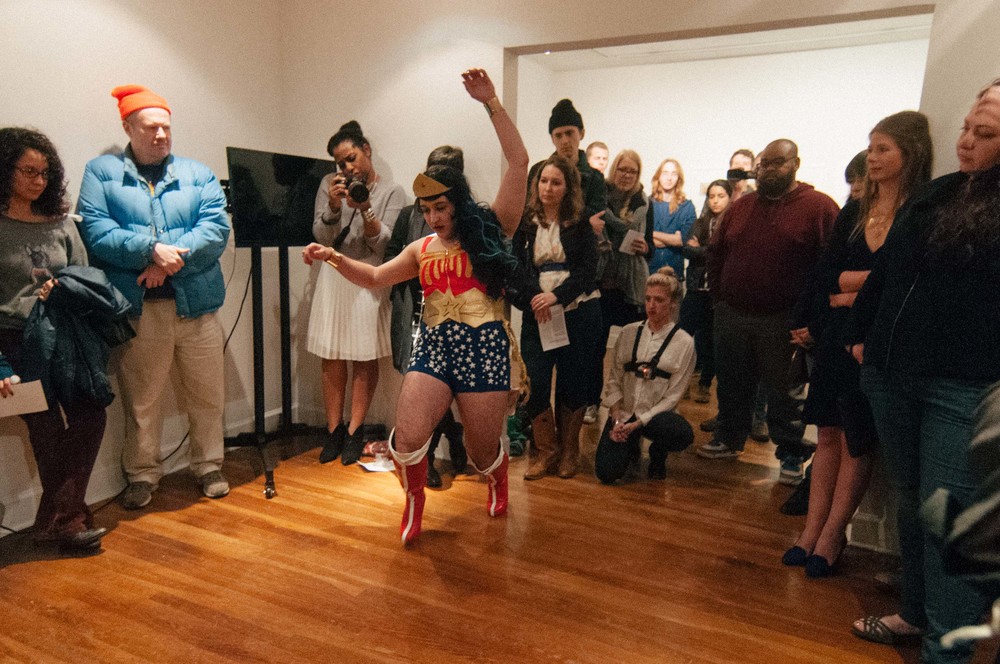 Artist Talk with Jessica Borusky, Max Fields, and Joe Joe Orangias